Do you want to keep your feline friend active and healthy? If the answer is 'yes,' you surely need to check out the best cat tunnels available online. We have curated a list of top cat tunnels in 2022 to make the process easy for you. Check them out.
Your furry friend needs stimulation and activity. In the absence of something that could assist them with their innate nature of hunting and praying, household items, like the corner of your bed, chairs, books, and even your toes and heels, have to face the wrath of their enthusiasm. Not anymore, though; there's a cat tunnel to keep your cat occupied. It's one of the best accessories to allow your furry companion to spend itself, quench its predatory instincts and avoid a sedentary lifestyle.
But if you search for a good cat tunnel, you will be overwhelmed with choices. Don't worry, though; we have got you back. Here's a quick guide to make your purchase decision easier. We have handpicked the best cat tunnels, rigorously tested them for their durability and reliability, and put together all the goods and possible bad that comes with them. So, read along!
In this segment, you will find the best cat tunnels available in 2022. You will find all the information, including the cat tunnels buying guide and important FAQs, related to cat tunnels. Here we go;
Tempcore Pet Cat Tunnel Tube Cat Toys
Egetota Cat Tunnel for Indoor Cats Large
Cat Tunnel Toy and Cubes Combo
Pet Magasin Collapsible Cat Tunnel Toys
Luckitty Cat Tunnel Tube with Plush Ball Toys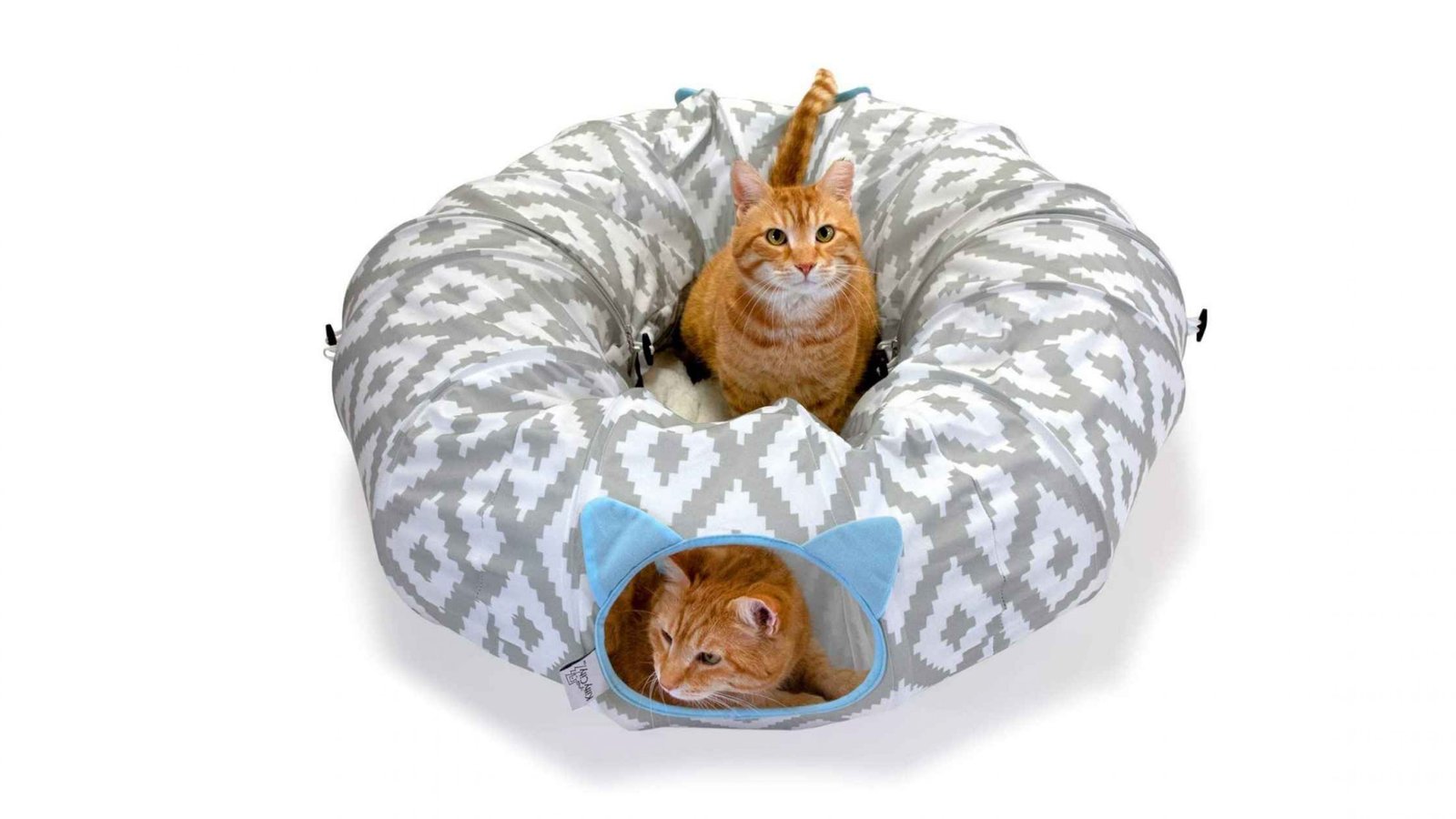 Kitty City Large Cat Tunnel Bed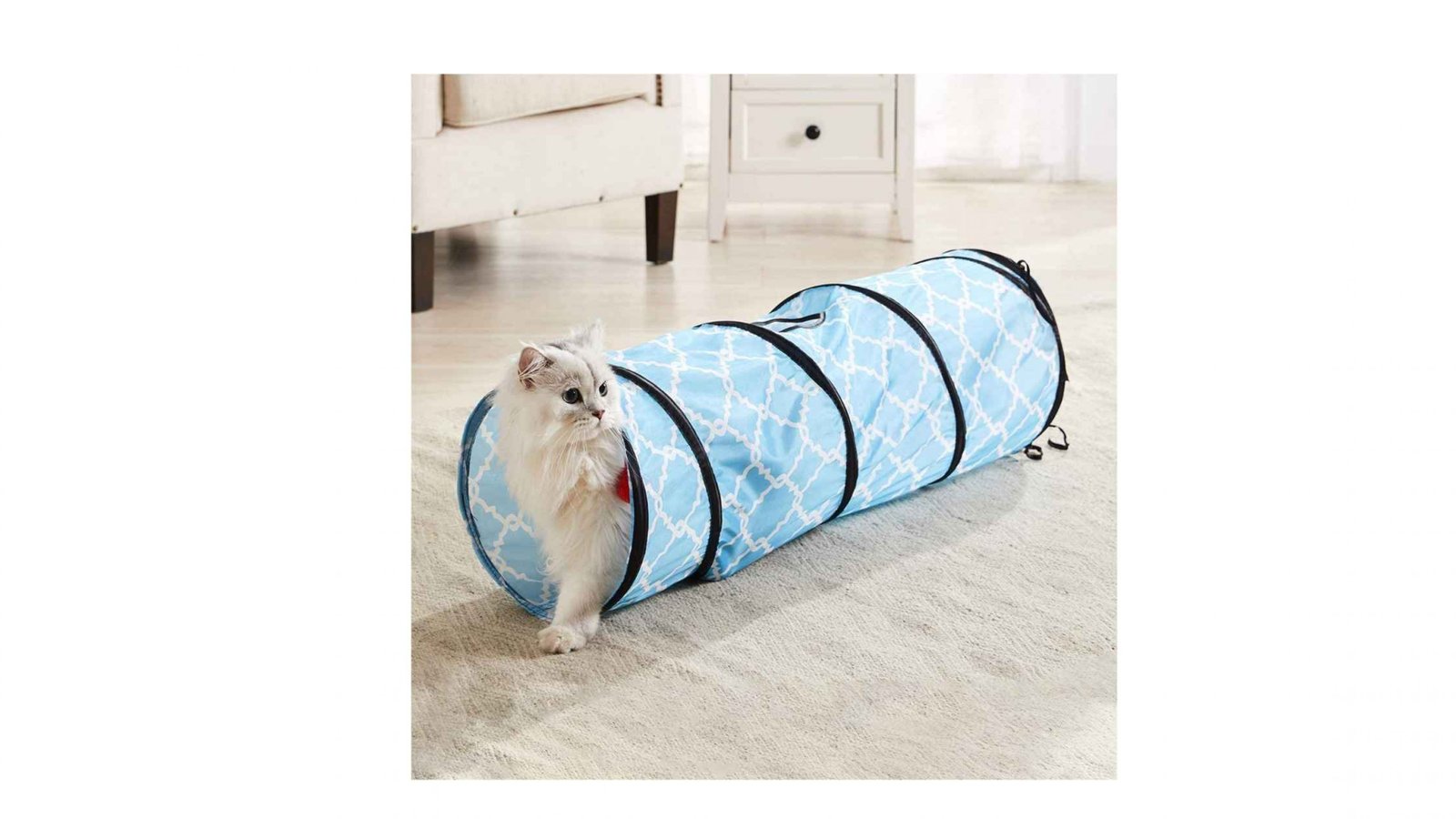 Western Home WH Cat Tunnels
Speedy Pet Collapsible Cat Tunnel
Eenk Cat Toy Tunnel and Cubes Bundle
Kitty City Pop-up Cat Cube
Tempcore Pet Cat Tunnel Tube Cat Toys​
Tempore is a reputable name in the pet care industry, and its cat tunnels speak of high quality and durability. Therefore at the top of our best cat tunnels list is the Tempcore Pet Cat Tunnel Tube. Its scores with its versatility and allows numerous play options for your cat.
It's a 3-way collapsible tunnel with ample room for the cat to pounce, stretch and relax.

it can be fitted with several other toys to enhance the experience and let your cat have the best time enjoying playing and hiding around.

There's a peephole to increase playfulness and assorted strings for toy attachment that will make the tunnels almost irresistible to your cat.
Egetota Cat Tunnel for Indoor Cats Large​
If a three-way tunnel is not enough for your exceedingly jumpy and active feline, here's an S-shaped, five-way cat tunnel from EGETOTA. The extra excess to the tunnels offers the cat additional opportunities to scurry in and peep out. One thing that customers particularly appreciate about the EGETOTA Cat Tunnel for Indoor Cats is the foldability option.
It enhances usability and allows one to easily carry the tunnel when required.

The intuitive bell design makes the internal more lively and encourages kittens to be at ease inside and around the tunnel.
Cat Tunnel Toy and Cubes Combo​
Some cats love to play inside a cat tunnel and also take a nap to relax a little bit. If your cat is a bit sleepy, the Cat Tunnel Toy and Cubes combo will be the perfect solution for your little kitty friend.
The 3-in-1 cat tunnel offers extra space to play and romp in it.
The multi-outlet design supports your cat's playful nature while allowing ample room to stretch, exercise, and take a nap when the rest is due.

The whimsical design is particularly intuitive and allows the use of cubes and tunnels separately too.

Innards are super colorful and instantly strike curiosity in your car to explore.
Pet Magasin Collapsible Cat Tunnel Toys
There are friendly cats, and there are suspicious cats too. For these little mistrustful, Pet Magasin offers the perfect solution. The Pet Magasin Collapsible Cat Tunnel Toys is simplistic in appearance while providing the best comfort and various play options.
It is a unique eye-catcher, with its retro design and colorful looks.

Inside, the fabric is dark in color and filled with crackling material, which awakens the cat's praying instincts.

On top of that, the Pet Magasin cat tunnel also comes equipped with several toys to increase playfulness and keep your cat active.
Luckitty Cat Tunnel Tube with Plush Ball Toys
Want to light things up a bit more? Try the shining, LUCKITTY self-luminous cat tunnel. Besides being photoluminescent, which in itself will compel your cat to try the tunnel, there are heaps of fun features to add to the experience.
The inside surface is made of extra comfort, soft, and durable fabric to help your cat relax instantly.

Besides, the hanging toys at the tunnel entrance ramp up the fun and allow your cat to engage in playful activities.

 On top of that, the model is quite popular amongst customers because of its promised quality and durability.
Kitty City Large Cat Tunnel Bed
Cats are sometimes silly and fickle pets and need a lot of caring and relaxation time. To those fidgety creatures, Kitty City Large Cat tunnel Bed provides an instant relaxation area and enough space to stretch and play. With Kitty City Large Cat tunnel Bed, the focus is on comfort and relaxation.
There's a two-way entry point to keep the cat engaged, while the central pillow provides the option to relax a bit after an intense session of playing and scratching.

On top of that, there is enough space to accommodate several kittens if you have one big family of felines.

Additionally, the zipping features allow you to easily pack the whole setup and take it anywhere you go or where the setup is needed.
Western Home WH Cat Tunnels
Next in line is the WESTERN HOME WH Cat Tunnels with a rather simplistic design essentially free from all the clutter. The focus here is to allow your meek kitten to know the space and not overwhelm itself with an assortment of toys, entry and exit points, and hanging strings.
It's a collapsible model and is close to being a tent rather than a sturdy tunnel.

Nonetheless, the tunnel offers a simple retreat for your kitten to relax, play and be at ease.

A single peephole makes the space more open, while the neutral color induces a soothing, calming environment for your kitten to enjoy.
Speedy Pet Collapsible Cat Tunnel
Speedy Pet Collapsible Cat tunnel appears to be the cousin of WESTERN HOME WH Cat Tunnel discussed above, but with more durability. The two-way tunnel is suitable for cats of all ages and sizes.
 There are two more openings on the upper side, which brings the number of entry and exit points to four. Each of them is equipped with soft, comfortable material to make the access cozy.
The frame is sturdy and holds its shape despite all the movements and activities inside.

The construction is focused on quality and durability, and the makers promise a product that will last quite long.
Eenk Cat Toy Tunnel and Cubes Bundle
Cats are mysterious creatures and sometimes behave in an eerie and strange manner. If your cat is a quick mood-swinging creature, the eenk Cat Toy Tunnel and Cubes Bundle might be of great help. It's not just a tunnel but a playground with a comprehensive pathway and rooms to relax. 
Your cat can be edgy, and alert in the tunnel while calm and relaxed in the cubes with space to lie flat and stretch to comfort.
Besides, the tunnel is collapsible and different parts are detachable.

You can remove the cubes, use them as separate relaxing areas for your cat, and put them together to provide a space for your cat to play and ease out its natural hunting instinct.
Kitty City Pop-up Cat Cube
If you need a safe snooze for your cat that allows for stretching and offers a space for an afternoon nap, Kitty City Pop-up Cat cube has all the bells and whistles for serious consideration.
Although simple in design, this three-way cat tunnel is spacious and comfortable. The inner fabric is durable yet fluffy and offers excellent comfort to your cat. There's a central peephole to allow easy access to the outside while romping up the fun, allowing an intense session of a playful sprint across all the entry and exit points.
The tunnel also impresses with flexibility and easy transportability.

The makers also promise quality and stability, as reflected in reviews left by happy customers.
Things To Consider While Buying Tunnels For Cats
This segment will reveal all the factors you need to consider before buying a cat tunnel. These factors will help you precisely evaluate the ups and downs of cat tunnels and help you decide whether a particular product is right for you or not.
Cats are constantly in motion, jumping, running, playing, scratching, and doing all sorts of activities. Therefore, material constitutes an essential criterion when choosing a cat tunnel. If the material is not robust enough, your cat will tear the whole tunnel down within a few days. Polyester is the best option; it's tough and robust while not too rigid to compromise with comfort.
Another critical factor to consider while purchasing the cat tunnel is size. Cats come in all sizes, and so are the cat tunnels. While cats could squeeze themselves from tight spaces, it won't be very comforting. Remember, it's your cat's retreat and, therefore, must not be too hassled or narrow. Your cat is in to relax and play and needs space to stretch its body. Therefore, size matters when it comes to cat tunnels.
Some people might still be doubtful whether their kitty needs a cat tunnel or not. While it's a matter of choice, we would like to draw attention to a few pointers as to why a cat tunnel is the best gift you can give to your feline buddy.
Here's a quick overview of all the benefits tied to cat tunnels;
In short, cat tunnels are the ideal solution for playing, hiding, and imitating hunting while keeping your kitty in shape and healthy. Moreover, cat tunnels enhance the feeling of hunting by stimulating their mind while giving them the space to perform all their moves. Therefore, in addition to reviving the environment, cat tunnels also allow your cat to satisfy their natural instincts.
Is There A Way To Keep My Cat's Tunnel From Collapsing?
You might hear people complaining that their cat's tunnel keeps on collapsing. It's certainly a challenge to keep a cat tunnel intact, given the fidgety nature of cats. But, there are some simple hacks to keep your cat's tunnel in place and prevent it from collapsing.
If your cat is too active, you can place the cat tunnel between two heavy objects, like chairs. Support from these objects will prevent the tunnels from rolling down or caving in. 
If there's a particular area in your house reserved for your cat's tunnel, you can permanently fix it with the help of adhesive tapes and strings. Additionally, some cats are too scared or suspicious of the tunnel, and that's why they dishevel it. Help your cat familiarise itself with the tunnels and not treat it as something dangerous.
Final Verdict On Best Cat Tunnels
Temocore cat tunnels come out to be the winner in our test and occupy the top spot in our best cat tunnels 2022 list. However, other candidates on the list are worthwhile too, and you can pick whichever fits your requirements. Toys are indispensable for pet upbringing, and cat tunnels serve an essential purpose too in the process. Incidentally, cat tunnels allow your cat to be agile and snappy. It stimulates the cats and helps them avoid a sedentary lifestyle. Besides, cat tunnels offer dual benefits. They serve both cat's play instincts and a need for retreat. Consequently, they offer both fun and relaxation and allow your cat to be in good shape. After reading our post on the ten best cat tunnels, we sincerely hope that you can find the best choice for your furry baby.
Frequently Asked Questions
Cat tunnels have an almost magical appeal to cats. They can play inside, sleep, relax and avoid boredom. Besides, the rustles it allows when the cat enters trigger the hunting instinct, which explains its appeal to your cat. Therefore cat tunnels are an essential addition to your feline's accessories to help them relax, retreat and grow healthy.
Before you purchase a cat tunnel, consider the size and materials. It will allow you to choose the best possible variant most suitable for your cat.
Yes. In principle, there are three types of cat tunnels;
Cat tunnel with a basket

Combi cat tunnel

Outdoor cat tunnel
Depending upon how many cats you have and what you want to offer to your cat, you can choose the variant.